---
---
Closing the Carbon Market Gap
According to Bank of America, carbon offset supply may need to grow as much as 50x by 2050 to achieve net-zero emissions. Watch the replay as three experts discuss efforts to close this gap and the challenges in developing projects and issuing credits at scale.
Keeping up with the trends can be fun, but that new shirt has a cost that extends far beyond your wallet.
How many pieces of clothing do you have in your closet, and how many times have you worn each item? With the proliferation of e-commerce, fast fashion, and globalization of trade, shopping for clothing has never been more affordable or accessible. New fashion trends pop up every month, and retailers are constantly rotating new designs. Keeping up with the trends and wearing new clothes can be fulfilling; however, purchasing that new t-shirt has some hidden costs that extend far beyond your wallet.
A Fashion Disaster
Production
The United States (U.S.) nearly doubled its rate of clothing production in the past two decades. The U.S. Environmental Protection Agency (EPA) estimates that 13 million tons of clothing and footwear were generated in 2018. Of that production, only 13% was recycled while the remaining 87% was discarded as waste—with 17% being combusted and 70% landfilled.
The fashion industry accounts for nearly a fifth of the 300 million tons of plastic produced each year globally. Synthetic fibers made up of plastics, such as polyester, nylon, and acrylic, have become a mainstay in textile production. While these materials are inexpensive for manufacturers, over time the synthetic fibers in these garments break down into microplastics and make their way into our environment and our bodies.
Water Consumption
The production of textiles is highly water intensive, accounting for nearly 20% of global wastewater. Every year the fashion industry uses 93 billion cubic meters of water—enough to meet the consumption needs of 5 million people. To put that in perspective, it can take more than 5,000 gallons of water to manufacture a single T-shirt and pair of jeans. That's approximately a third of the amount needed to fill up an average swimming pool every time we purchase a new outfit. Of that water, the UN estimates suggest that 80-90% of wastewater is returned to the environment untreated, causing the textile sector to be one of the major water-polluting industries.
GHG Emissions
The fashion industry is also responsible for ~10% of annual global carbon emissions, more than all international flights and maritime shipping combined. That's approximately 3.4 billion metric tons of carbon dioxide equivalent (CO2e) emissions associated with the production and transportation of textile apparel. To break that down, the production of a pair of jeans from start to finish equates to approximately 33.4 kilograms (kg) of CO2e emitted. At this pace, the fashion industry's greenhouse gas emissions are anticipated to surge by more than 50% by 2030.
"Every year the fashion industry uses 93 billion cubic meters of water—enough to meet the consumption needs of 5 million people. To put that in perspective, it can take more than 5,000 gallons of water to manufacture a single T-shirt and pair of jeans."

THE WATER INTENSITY OF FASHION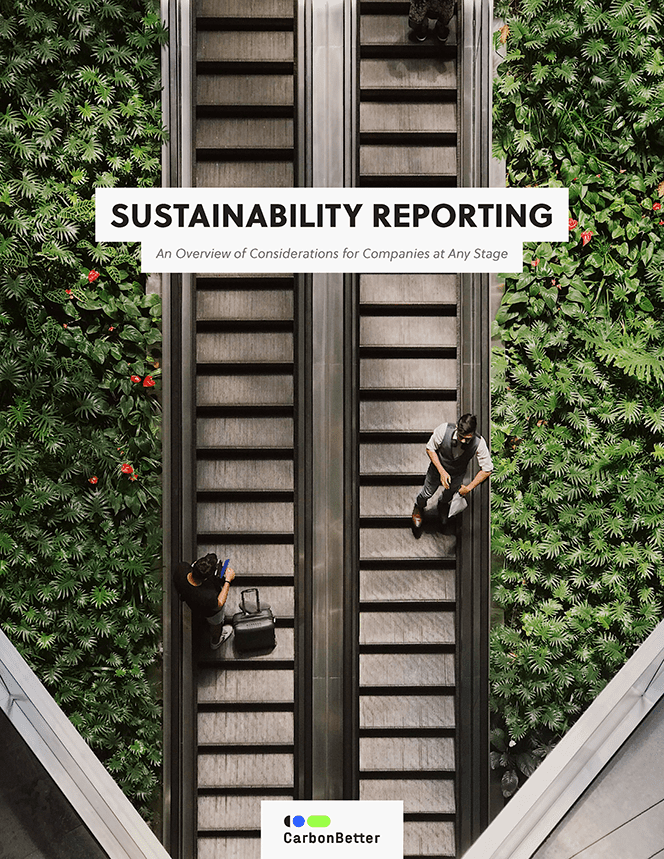 SUSTAINABILITY REPORTING OVERVIEW
Sustainability reporting serves as a valuable tool to achieve corporate commitments and better manage climate-related business risks. This white paper walks you through what's typically included and what should be considered.

Certified Offset Portfolios
Buying high-quality carbon offsets has never been easier. Explore CBCO Portfolio 22-1 and get instant access to fully vetted carbon offsets.
Textile Waste
Unfortunately, the extensive amount of resources and energy put into producing textile pieces often goes misspent due to the short lifespan of fashion pieces. In the past two decades, the volume of clothing Americans threw away each year has doubled. This is due in part to the rise of fast fashion and their production of inexpensive, non-durable clothing. In 2019, there were 104,000 tons of waste generated by single-use outfits purchased for events like weddings, holidays, and festivals.
Fast fashion's high use of synthetic materials can make apparel difficult to recycle, thus the high volumes of textiles produced from fast fashion will often end up in landfills. When consumers throw away clothing, it can take 200+ years for the materials to decompose in a landfill. During decomposition, methane gas, toxic chemicals, and dyes are leached into the surrounding environment.
Moving Fashion Forward
Despite its relatively large contribution to climate change, the fashion industry remains one of the least regulated industries, in part due to its complex global supply chain. However, there have been recent shifts in sustainability legislation to address the environmental externalities of the fashion industry.
Recently, New York proposed the Fashion Sustainability and Social Accountability Act which has the potential to transform the fashion world. If passed, the bill would mandate all fashion companies that operate in New York and generate more than $100 million in revenues to map a minimum of 50% of their supply chains. These brands will have to disclose social and environmental impacts such as fair wages, greenhouse gas emissions, water footprint, chemical management, and corrective action plans to reduce their impacts. Companies will also have to report the total volume of materials they produce, broken down by material types.
The Fashion Act would be the first sustainability legislation that targets the fashion industry on a wide scale. Mandates on reporting aim to bring greater transparency to large fashion brands' environmental and social governance, holding them accountable to reshape their supply chains and restrategize their operations to better align with employee and environmental welfare. Improved sustainability within textile production will have a ripple effect felt by all sectors involved in the fashion industry's supply chain.
Companies that don't comply with the act will face fines of up to 2% of their annual revenues, which will accrue into a community fund administered by the Department of Environmental Conservation, to be used for environmental justice projects. In addition, an annual list of non-compliant companies will be compiled and published by the New York attorney general.
More Than Just a Fashion Trend
The Fashion Act is part of a larger trend across industries where legislators, consumers, and investors push for more corporate commitment to environmental concerns. Environmental concerns have become established across all business sectors, and more regulations are being proposed to enforce environmental standards. All companies should expect to be affected by future climate policies in one way or another.
Be a Trendsetter
Should the Fashion Act be passed, the way fashion companies and retailers manage their operations will be fundamentally changed. Brands that take charge today and proactively address sustainability risks throughout their supply chain will now be set up for success with future legislation and consumer demands. Companies that wait to collect data on their supply chain and environmental impacts could be faced with high costs and vulnerabilities associated with their disclosures.
Creating fashion responsibly is within reach when you have the right help. CarbonBetter helps companies in all industries take steps towards a net-zero future by measuring and reducing impacts, reporting on progress, and offsetting hard-to-abate emissions. Contact us today to explore options and get started.