---
---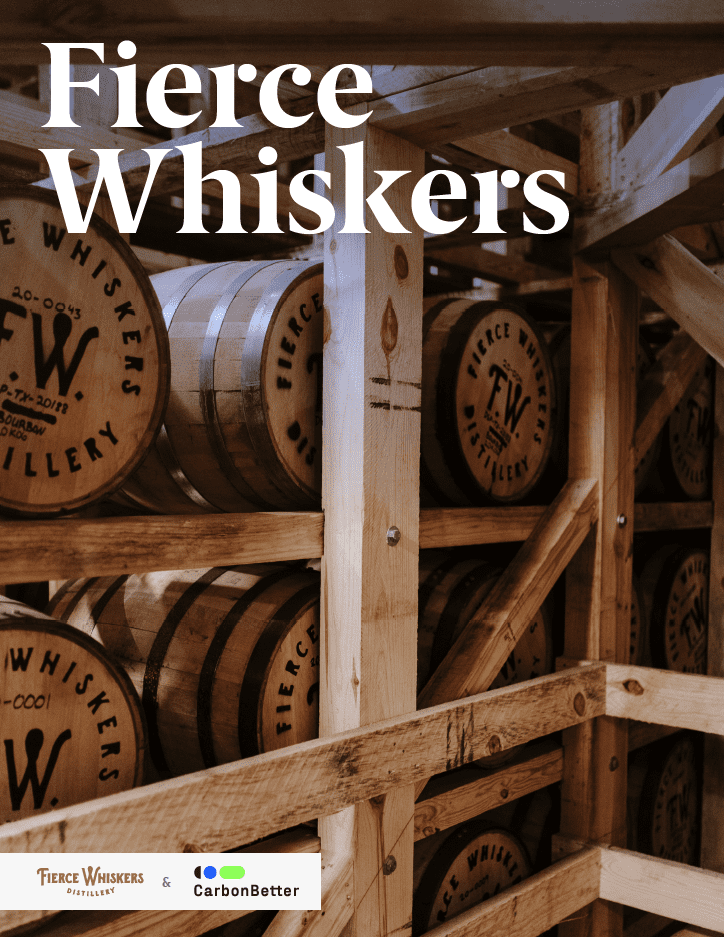 ---
Download the Full FW Case Study
Learn more about how Fierce Whiskers has made sustainable choices every step of the way by downloading the full sustainability report.
---
Sustainable from grain to glass, the story of Fierce Whiskers
Fierce Whiskers (FW) is a unique American bourbon distillery, embracing the ethos of "greatness through stubbornness." Making world-class whiskey is not easy, and doing so sustainably adds another layer of complexity. FW is focused on producing the highest quality whiskey, from grain selection to barrel aging and bottling, with an emphasis on efficiency throughout every step of its process. They source local grains whenever possible, utilize low-impact Independent Stave Company (ISC) white oak barrels for aging their whiskey, and built a unique five-story rickhouse with louvers to leverage the harsh Central Texas climate in the aging process.
Check out Fierce Whiskers' world's first carbon-negative whiskey, Five O'Clock Shadow, released in September 2022.
Read the Story
FW aims to be a foundational building block in the craft spirits world of Austin while staying true to its roots in the local community. FW intends to not just have a presence in the community, but to be an active participant, ensuring direct ties to the local economy.
"Greatness through stubborness."

The fierce whiskers ethos
From an environmental perspective, FW has proactively chosen to assess where they are at today, less than a year into its operations, and will work to develop a baseline as well as any subsequent metrics and trends pending a full year of production. FW values transparency and sees the importance of sharing data early in their journey.
Grain to Glass
FW begins with milling regionally produced grains to create their unique mash bills for their whiskeys, including bourbon and rye. By weight, ninety-nine percent of the grains utilized by FW are produced near Amarillo, Texas. After production, FW demonstrates its commitment to participating in the circular economy by donating spent grains to local farmers to minimize waste and ensure reuse. Farmers utilize the spent grains as animal feed.
As with traditional American Bourbon, FW ages their bourbon and rye in new white oak barrels for years at a time, giving their whiskeys distinctive color and rich flavor. FW selected ISC white oak barrels based on their commitment to zero-waste and their forest management efforts. ISC works with the White Oak Initiative to ensure the long-term sustainability of America's white oak forests through research, technical assistance, program implementation, communication, and policy. ISC not only contributes financially to the initiative but works directly with the organization to engage directly with forest owners and public land foresters as well. These efforts have contributed to white oak being the second fastest-growing hardwood resource.
We specialize in sustainability reporting
Measuring and reporting progress are essential parts of a sustainability strategy, and we empower clients to share their impacts in a traceable way with their customers, employees, and other stakeholders. No matter where you are in your sustainability journey, our team can help.
Learn More
Harnessing the Texas Climate
The five-story bonded rickhouse, with four stories above ground and one below, is unique in design to allow FW more creative control over the richness of their whiskey while harnessing the harsh summer climate conditions in Central Texas. FW selected the building location during the design phase based on the outcomes of a wind study, allowing the rickhouse to capture ideal prevailing winds. The louver system, with manual louvers on each side of the building, harnesses airflow. Typically, rickhouses have small windows rather than manual louvers, however, at the time of building the FW rickhouse had more louvers per square foot than any Kentucky rickhouse. The building is not HVAC-equipped and was designed to maximize efficiency under harsh climate conditions while minimizing energy waste.
A natural ventilation analysis was conducted to optimize direct airflow and fast ventilation based on the main wind direction.
Energy Impacts
FW selected high-efficiency equipment, including a boiler with an industry-leading efficiency rating. They have also deployed automation systems to ensure efficiency and quality control over time. Facilities of this size do not typically have automation systems to this extent. As an example of FW's commitment to reducing energy waste, doors are equipped with sensors to cut off the HVAC system when opened. Efficiency was considered throughout the distilling process, building operations, interior and exterior lighting, and the rickhouse. To further reduce the impacts of their energy consumption, in April 2021, FW installed a state-of-the-art solar project consisting of a rooftop solar array with a highly efficient inverter. Utilizing utility data from the start of operations through March 2021, FW quantified their energy and emissions intensity.
Moving Forward with Water Conservation Goals
Austin's climate is part of what makes FW's aging process unique, but the summer climate also creates significant landscaping water demand. FW is evaluating rainwater collection as a potential option moving forward to reduce water consumption. While not directly related to FW's water consumption, they are actively looking into the impacts of water on grain selection in relation to where their grains are produced. Amarillo's primary water source is the Ogallala Aquifer, used at a rate that exceeds recharge; Texas as a whole remains in severe water shortages as demand far exceeds supply. As in many sustainability choices, there is not a clear winner – selecting regionally produced grain from a water-stressed region adds to the complexity of FW's decisions and is an important consideration moving forward.
---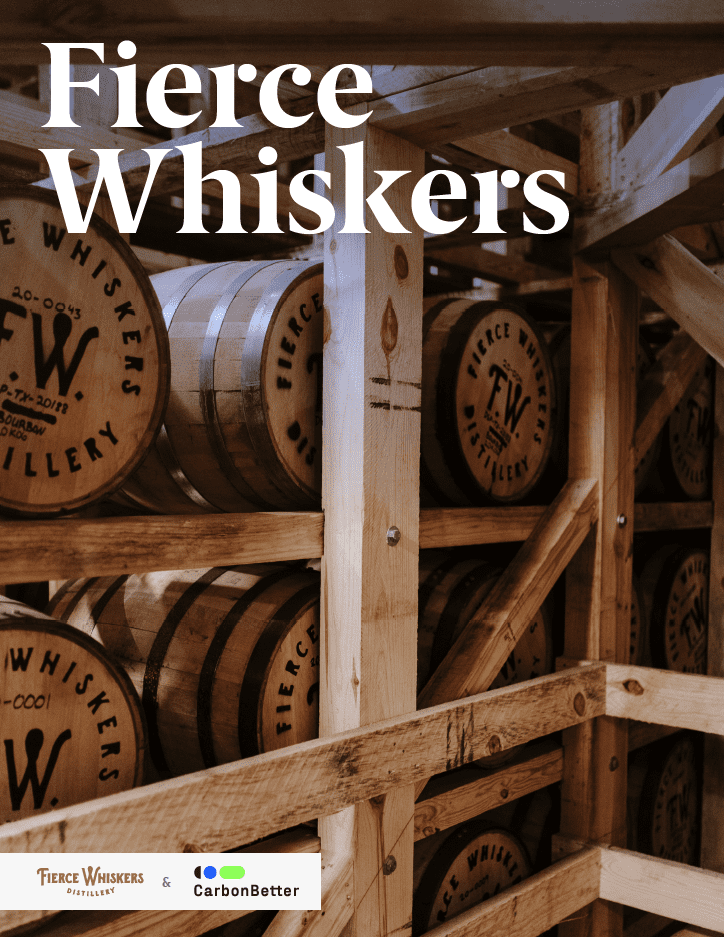 ---
There's more to the story: download the full case study
Learn more about how Fierce Whiskers has made sustainable choices every step of the way by downloading the full sustainability report.
---