---
---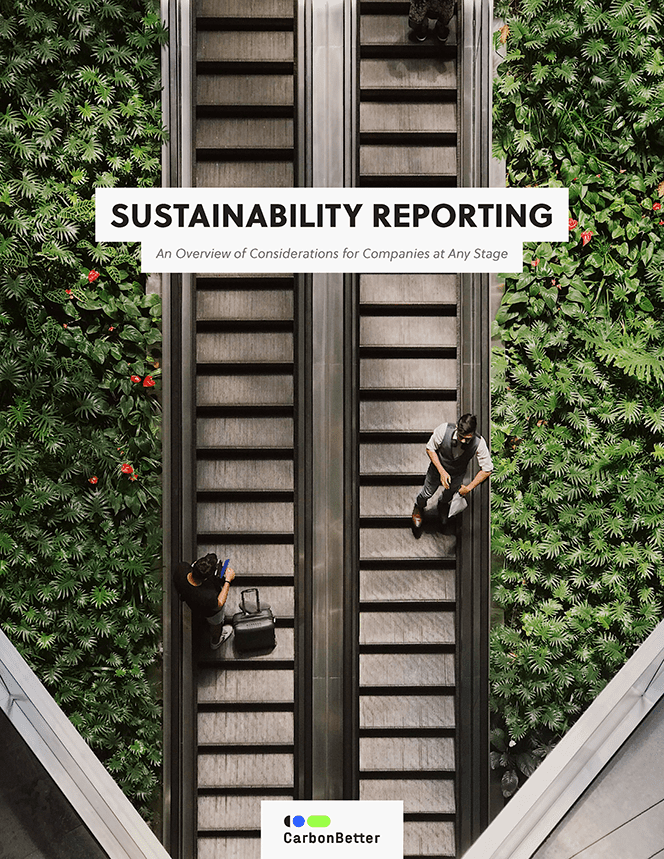 SUSTAINABILITY REPORTING OVERVIEW
Sustainability reporting serves as a valuable tool to achieve corporate commitments and better manage climate-related business risks. This white paper walks you through what's typically included and what should be considered.

Certified Offset Portfolios
Buying high-quality carbon offsets has never been easier. Explore CBCO Portfolio 22-1 and get instant access to fully vetted carbon offsets.
Learn how to identify and assess the most significant environmental issues for your business.
Materiality, in the context of sustainability, is the process of identifying and assessing the environmental, social, and governance (ESG) issues that are the most significant for an organization and its stakeholders. These issues, often referred to as "material issues," represent not only potential risks but also opportunities. They have the potential to influence a company's financial stability and operational efficiency, while at the same time impacting the broader environment and society. It's important to note that these material issues are not fixed; they evolve in response to environmental shifts, societal norms, and regulatory changes. By completing a materiality assessment, businesses can effectively prioritize their sustainability initiatives to mitigate risks and align their strategies with stakeholder expectations, with a focus on doing the most good long-term.
Materiality Assessment
Before doing a materiality assessment (and in this case, we are focusing on environmental only though materiality assessments are a tool across ESG), you should consider your environmental aspects, which are all the areas that your business interacts with the environment and the potential environmental impacts of those interactions. An example of an environmental aspect might be that you consume water for agriculture and the potential environmental impacts could include depletion of water supply and degradation of water quality. When determining the materiality of potential impacts, you are considering the importance of this topic to your key stakeholders in tandem with the influence or risk to your business's success.
Environmental Aspects of Materiality
A materiality assessment can help you identify environmental impacts that pose a high risk to your business success or topics that may be of high importance to stakeholders such as investors or customers. By identifying the importance and potential risks and impacts of environmental topics, you can prioritize certain sustainability actions with these topics in mind. For example, if you're an alcoholic beverage producer, water consumption is likely to be highly material, so considering ways to reduce your water impacts may be top of mind.
Some examples of environmental considerations for materiality include:
Carbon Emissions: This refers to the release of greenhouse gases (GHG) into the atmosphere as a result of a company's operations. High carbon emissions contribute to climate change, which can lead to regulatory penalties, reputational damage, and physical risks such as extreme weather events.
Waste Management: This involves the generation and disposal of waste from a company's operations. Poor waste management can lead to environmental pollution, health risks, and regulatory non-compliance. It also represents a loss of resources that could otherwise be recycled or reused.
Water Usage: This refers to the amount of water consumed in a company's operations. Overconsumption of water can lead to water scarcity, affecting local communities and ecosystems and potentially leading to conflicts with stakeholders and regulatory issues.
Biodiversity Conservation: This involves the impact of a company's operations on local ecosystems and species. Destruction of habitats can lead to loss of biodiversity, which can disrupt ecosystem services, lead to regulatory penalties, and damage a company's reputation.
Energy Efficiency: This refers to the amount of energy a company uses in its operations. Companies with low energy efficiency may face higher operating costs and increased carbon emissions.
Sustainable Sourcing: This involves obtaining materials and resources in a way that respects environmental limits and social conditions. Failure to source sustainably can lead to resource depletion, environmental degradation, and conflicts with local communities.
These environmental aspects are interconnected. For example, improving energy efficiency can reduce carbon emissions. Similarly, sustainable sourcing can reduce waste and conserve biodiversity. They represent potential risks that need to be managed, but also opportunities for innovation and cost savings. By identifying and addressing these environmental aspects, companies can improve their sustainability performance, meet stakeholder expectations, and drive long-term change in their business operations.
"Materiality scoring is a nuanced, iterative process that evaluates the importance and risk of various environmental aspects unique to each business."

Nicole Sullivan, Director of Climate Services at CarbonBetter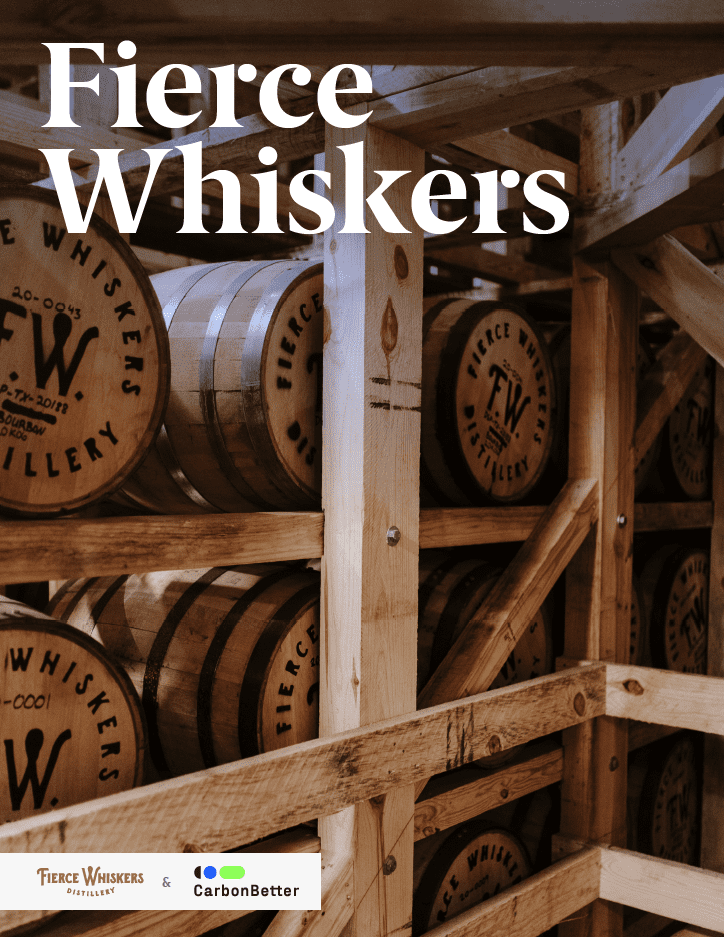 FW Sustainability Report
Learn more about how Fierce Whiskers has made sustainable choices every step of the way by downloading its full sustainability report.
Skip the RFP—CarbonBetter can help
CarbonBetter Certified Offset Portfolios allow carbon buyers to participate in a variety of projects, geographies, and technologies in one simple transaction rather than navigating a lengthy and complex RFP process with multiple carbon market participants.
Learn More about CBCO 22-1
Materiality Scoring
In order to evaluate the prioritization of environmental aspects, a method called material scoring is used. Materiality scoring is a nuanced, iterative process that evaluates the importance and risk of various environmental aspects unique to each business. The scoring process typically involves a combination of quantitative and qualitative analysis, and it may take into account factors such as the potential financial impact of the issue, the level of stakeholder concern, and the degree of control the organization has over the issue.
The goal of materiality scoring is to help the organization prioritize its sustainability efforts by focusing on the most material issues. For example, a manufacturing firm might prioritize waste management, while a software company might focus on energy consumption. Materiality scoring helps businesses focus on areas where they can make the most significant environmental impact and simultaneously minimize risk to the business. It's a dynamic process that promotes transparency around a company's environmental performance and should be regularly updated to reflect evolving environmental conditions, societal expectations, and regulatory landscapes to ensure the company's sustainability strategy remains relevant and effective.
A team approach to materiality scoring is essential for proactively ensuring environmental aspects and impacts are scored in a way that balances risk mitigation with key stakeholder priorities. While an ESG or sustainability team member or consultant might lead workshops associated with the materiality assessment, voices from operations, finance, and marketing can also bring significant value in ensuring a well-rounded assessment that will drive sustainability strategy going forward.
Also of importance to note, a materiality assessment should not be a one-time exercise. As your business, operations, and stakeholders change, as well as changes in consumer pressures and progress toward your goals, it is important to revisit and reassess materiality.
Materiality Matrix Example
The materiality matrix provided below from Nestle is a prime example of how a brand can utilize materiality scoring to pinpoint the issues that are most critical to them, and which ones might not necessitate immediate focus, by considering their importance to stakeholders and potential impact on success.
Click here to read the full report: Creating Shared Value and Sustainability Report 2020 Appendix
Frameworks and Regulatory Factors
The frameworks below, ranging from regulatory rules to voluntary initiatives, provide the necessary structure and guidance for companies to identify, assess, and report their material ESG issues:
Proposed Securities Exchange Commission (SEC) Climate Disclosure Rule: This proposed rule will require companies to disclose their climate-related risks and impacts. It helps businesses identify material issues by making them assess and report their climate-related vulnerabilities and strategies, thereby promoting transparency and accountability.
The CDP: CDP encourages companies to disclose their GHG emissions and climate change strategies. It helps define material issues by focusing on the environmental impact of business operations, particularly relating to carbon emissions and climate change.
The Global Reporting Initiative (GRI): GRI provides a comprehensive framework for sustainability reporting. It helps businesses identify material issues across a broad range of ESG topics, promoting transparency and enabling stakeholders to make informed decisions.
The International Integrated Reporting Council (IIRC): IIRC promotes integrated reporting that combines financial and non-financial factors. It helps businesses define material issues by encouraging them to consider how various factors (financial, social, environmental) interact and impact their long-term value creation.
The Sustainability Accounting Standards Board (SASB): SASB provides industry-specific standards for businesses to disclose material sustainability information to investors. It helps define material issues by focusing on those that are likely to affect financial performance and shareholder value.
UN Global Compact (UNGC): UNGC encourages businesses to adopt sustainable and socially responsible policies. It helps define material issues by promoting ten principles in areas of human rights, labor, environment, and anti-corruption, thus shaping the broader sustainability agenda of companies.
The Importance of Expert Guidance
Developing a comprehensive materiality strategy is a complex process that requires a deep understanding of environmental issues, stakeholder expectations, and regulatory requirements. While some businesses may attempt a do-it-yourself approach, bringing in third-party experts as support can help businesses identify their most material environmental aspects and impacts, develop effective strategies to manage these issues and communicate their efforts to stakeholders. A multi-stakeholder approach, involving input from employees, customers, investors, and other stakeholders, can also enhance the credibility and effectiveness of a business's materiality strategy.
Conclusion
By identifying and prioritizing your organization's most significant environmental aspects and impacts, you can focus your efforts where they matter most. By involving input from stakeholders, you can increase the credibility and effectiveness of your brand's materiality assessment and sustainability strategy. And by involving experts, like CarbonBetter, you can get expert guidance on materiality, carbon footprint measurement, goal setting, and more. Contact us today to get started.
How frequently should a business conduct a materiality assessment?
While there's no universal rule, it's generally recommended for businesses to conduct a materiality assessment at least every two to three years. This frequency allows businesses to remain responsive to evolving environmental conditions, societal expectations, and regulatory landscapes.
Who should participate in the materiality assessment process?
A materiality assessment should ideally involve a cross-functional team within the organization, including representatives from operations, finance, and marketing. Including a diverse group of stakeholders, both internal and external, can provide a more comprehensive and balanced view of material issues.
How should a business communicate its materiality assessment results?
Businesses typically communicate their materiality assessment results through sustainability reports, which are shared with stakeholders such as investors, customers, and employees. These reports provide transparency about the company's environmental performance and sustainability strategy.
What challenges might businesses encounter when conducting a materiality assessment?
Businesses might face challenges such as a lack of data, difficulty in engaging stakeholders, and uncertainty about how to prioritize and manage material issues. Engaging third-party experts can help businesses navigate these challenges and conduct a more effective materiality assessment.
How can materiality contribute to a business's competitive advantage?
By focusing on material issues, businesses can not only mitigate risks but also identify opportunities for innovation and cost savings. This can enhance their reputation, attract customers, and ultimately provide them with a competitive edge in the market.
---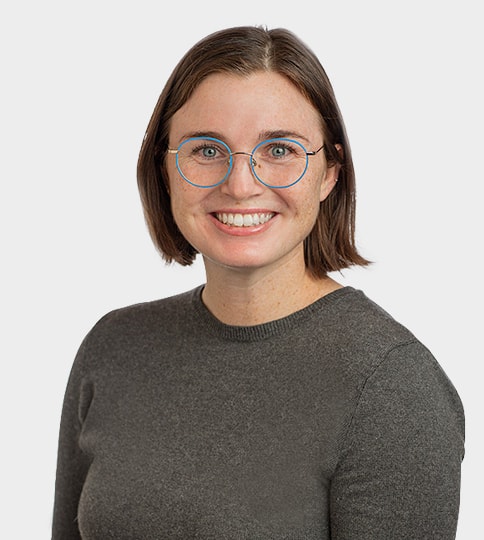 ---
Story
Explore the alignment of ISSB's IFRS S1 & S2 standards with TCFD's recommendations. The post sheds light on the nuanced shifts in sustainability disclosures and their significance in the global financial landscape.
Read More