---
---
By many accounts, 2023 is expected to be a transformative year in the evolution of climate-related disclosure and mitigation requirements in the United States. In this webinar, we cut through the jargon to provide clarity about what climate-related requirements may be coming for US companies by unpacking the two proposed federal rules that are currently pending and one EU regulation that affects some US companies.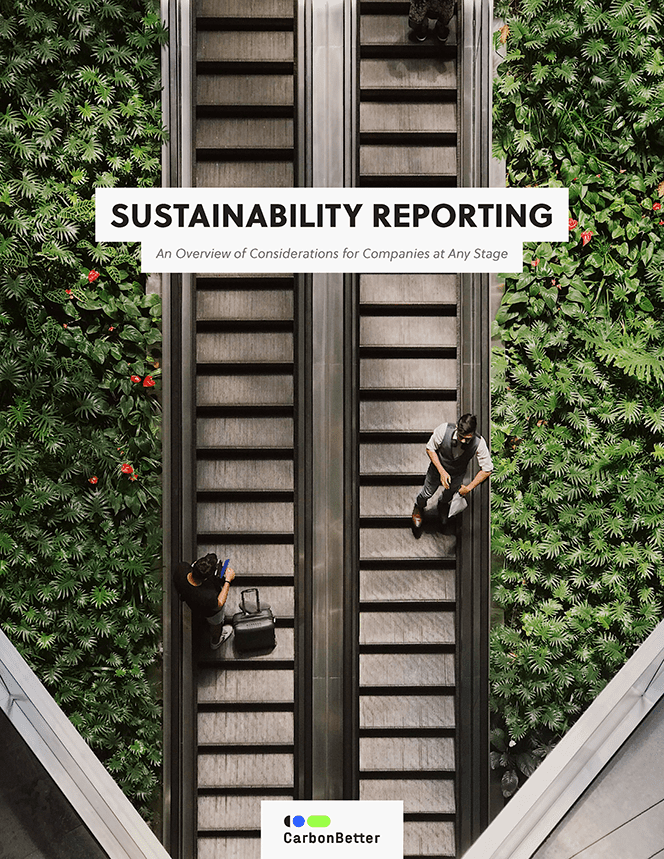 SUSTAINABILITY REPORTING OVERVIEW
Sustainability reporting serves as a valuable tool to achieve corporate commitments and better manage climate-related business risks. This white paper walks you through what's typically included and what should be considered.

Certified Offset Portfolios
Buying high-quality carbon offsets has never been easier. Explore CBCO Portfolio 22-1 and get instant access to fully vetted carbon offsets.
Key takeaways from our recent webinar about plastic waste and what brands can do about it.
Our latest webinar, "From Awareness to Action: How Brands Can Meet Consumer Demand for Plastic Reduction," provided a comprehensive overview of the global plastic problem and how brands can address it. The discussion, led by sustainability experts Nicole Sullivan, Director of Climate Services at CarbonBetter, and Candice Lawton, Senior Manager of Business Partnerships at rePurpose Global, covered a wide range of topics, from the scale of the plastic problem and consumer responses to it, to the strategies brands can employ to meet consumer demand for plastic reduction. The role of plastic credits was also discussed, along with case studies demonstrating their practical use. Below is the full replay with chapters marking the start of each question.
In addition to the full replay above, here is a quick summary of the key points made in the webinar. Click any section below to go directly to the summary for that section.
Table of Contents
00:00 – Introductions
3:02 – Buzzword: What does "circular economy" mean?
8:04 – The state of plastic waste
15:35 – Plastic waste and recycling stats
19:29 – The Global Plastics Treaty
23:27 – Drivers for brands to reduce their carbon and plastic footprints
27:31 – Corporate sustainability commitments and goals
31:25 – How does sustainability impact your bottom line?
37:27 – What gets measured gets changed
38:39 – rePurpose Global's holistic plastic management approach
42:46 – CarbonBetter's approach to carbon management
43:42 – Can plastic credits have the same impact as carbon credits?
45:02 – How rePurpose Global develops plastic credits
51:10 – Global plastic recovery projects
56:05 – Closing thoughts
Introduction (00:00)
Nicole Sullivan and Candice Lawton introduce themselves and set the stage for the discussion on the circular economy, plastic waste, and the role of brands in addressing these issues.
Buzzword: What does "circular economy" mean? (3:02)
The hosts explained the concept of the circular economy, emphasizing its importance in reducing waste and promoting sustainable use of resources. They discussed how it contrasts with the traditional linear economy and its benefits to businesses, consumers, and the environment.
Candice provided a comparative analysis of the "circular economy" and the prevailing "linear economy". She explained that the linear economy, our current model, follows a "take-make-waste" approach: resources are extracted, transformed into products, used, and then discarded. This model, she argued, is unsustainable, particularly in light of the escalating production and waste of plastic.
Conversely, the circular economy model is designed to eliminate waste and pollution, extend the lifespan of products and materials, and rejuvenate natural systems. This model encourages consideration of a product's end life right from the design stage, aiming to transition from the wasteful linear economy to a more sustainable model where waste is minimized and resources are maximally reused or recycled.
Candice emphasized that transitioning to a circular economy is not just an environmental and social necessity but also an economic one. It would be more cost-effective in the long run than continuing with the current linear model.
The state of plastic waste (8:04)
The United States is the world's largest generator of plastic waste, with each individual producing more plastic waste than any other person in any other country. This has led to the United States (US) being the third-largest contributor to marine plastic pollution worldwide.
Despite international laws aimed at reducing the exportation of waste, the US continues to ship significant amounts of plastic waste to countries such as Malaysia, Taiwan, Thailand, Hong Kong, and India. These countries often lack the necessary infrastructure to manage these materials sustainably, leading to environmental and social consequences.
The environmental impacts of plastic waste include habitat degradation and the creation of microplastics. However, there are also severe humanitarian consequences resulting from mismanaged waste and plastic pollution. These include negative health effects and increased mortality rates in regions lacking the infrastructure to manage waste sustainably.
In just the time spent on the webinar, almost 12 million pounds of plastic waste was generated. This highlights the urgent need for solutions that address both the environmental and social consequences of plastic pollution. The goal is to design platforms that can address both aspects in parallel, emphasizing the need for a comprehensive approach to the plastic waste crisis.
Plastic waste and recycling stats (15:35)
In this section of the webinar, Candice Lawton discusses stats that highlight the current state of plastic waste and recycling. She shares that less than 9% of plastic waste is recycled globally, emphasizing that while this statistic is alarming, it does not mean we should stop recycling. Instead, it highlights the need for a portfolio of solutions to tackle the global plastic pollution problem.
Lawton also highlights the environmental consequences of plastic waste, noting that there will be more plastic in the ocean than fish by 2050, and almost 80% of all marine debris has some kind of plastic in it. She points out that 90% of all the plastic entering our oceans comes from just 10 hotspots, mainly rivers in the Global South, in regions like India, Indonesia, Kenya, Columbia, and Ghana.
The social implications of plastic waste are also discussed. Lawton mentions that more than 3 billion people today don't have access to trash pickup or recycling at their houses, or even drop-off locations. Additionally, there are 18 million people trapped in dangerous informal recycling markets due to a lack of formalized infrastructure.
Lastly, she points out that consumers are increasingly concerned about plastic pollution and are demanding that brands take action. They are prioritizing brands that are implementing sustainability initiatives, particularly those addressing the issue of plastic.
The Global Plastics Treaty (19:29)
The Global Plastics Treaty, a legally binding international law aimed at reducing plastic pollution worldwide, is currently being developed by the United Nations Environmental Programme (UNEP) and several other groups. The treaty is expected to establish global standards for measuring plastic usage and its environmental and social footprint, and will outline commitments for tackling plastic waste. The treaty is designed to address the global nature of plastic pollution, rather than focusing on solutions within individual countries. The treaty is still in the negotiation stage, with a series of meetings planned through the end of 2024. Candace notes that rePurpose Global created the Innovation Alliance to ensure representation and perspective from solutionists and those with lived experiences of the problem at these treaty negotiations.
Drivers for brands to reduce their carbon and plastic footprints (23:27)
Brands are facing increasing pressure from stakeholders, including investors, regulators, and employees, to reduce their carbon and plastic footprints. However, the most significant driver is the rising demand from consumers for more sustainable practices. Research by rePurpose Global shows that nearly 80% of consumers prioritize a sustainable lifestyle and are more likely to purchase products with sustainability credentials.
Despite this, the consumer packaged goods (CPG) industry is still a significant contributor to plastic waste, with almost 500 billion plastic items ending up in nature every year. Brands that invest in sustainability measures and take action to prevent plastic leakage into nature can expect tangible returns on investment. These returns can come in the form of acquiring more consumers, deepening brand loyalty, securing better retail shelf space, and standing out against competitors.
Corporate sustainability commitments and goals (27:31)
Brands are facing increased scrutiny regarding their sustainability claims, with a focus on accurately representing their impact and the initiatives they have in place. Companies of all sizes, from Fortune 500 corporations like Johnson & Johnson and Colgate-Palmolive to emerging startups, are implementing initiatives and making claims about their impact on plastic and carbon. These include reaching net-zero emissions by 2030, becoming carbon-neutral by 2050, using 100% renewable energy, and targeting biodiversity through nature positivity. In the plastic space, some brands are pioneering plastic-neutral or even plastic-negative commitments. These commitments involve measuring the company's plastic footprint and then recovering an equivalent amount of plastic from the environment. The bottom line: making claims and getting certifications about the impact that you as a brand are having on carbon or plastic is becoming increasingly popular in the industry.
How does sustainability impact your bottom line? (31:25)
Sustainability can have a positive impact on a company's bottom line. It can lead to reduced costs through energy efficiency and waste reduction, increased brand value through innovation and industry leadership, and improved consumer perceptions. Investors are also increasingly considering sustainability in their decision-making processes.
Companies are encouraged to quantify their environmental impacts, including carbon footprint, water consumption, and waste output, and share their progress through transparent reporting and storytelling.
However, brands face numerous challenges in implementing sustainability initiatives, including meeting consumer demands, quality standards, and regulatory compliance. The forthcoming global plastics treaty and state-by-state extended producer responsibility (EPR) schemes in the US are cited as examples of regulatory pressures.
Despite these challenges, the importance of strategic partnerships in addressing these complex issues is emphasized. The section concludes by highlighting the need for a multi-stakeholder approach to solving the problem of sustainability.
What gets measured gets changed (37:27)
The phrase "What gets measured gets managed" is commonly used in carbon accounting. However, when it comes to plastic, it's not just about managing the current situation, but also about driving systemic change. The solutions available today may not be the same ones available in five years, due to innovation and changing cost factors. Therefore, it's crucial to not only manage the current numbers but also to be proactive in seeking and implementing new solutions.
rePurpose Global's holistic plastic management approach (38:39)
rePurpose Global offers a comprehensive approach to managing plastic waste. Their suite of solutions includes measuring a company's plastic footprint throughout its entire value chain, identifying reduction strategies, and exploring alternatives to plastic. They also help brands set up impact portfolios to recover and intercept plastic waste, remediate environments with legacy pollution, and address the social externalities that come from mismanaged waste.
Their approach is not just about managing the current situation but also about driving systemic change. They acknowledge that the solutions we have today may not be the solutions we have five years from now, and that innovation and cost factors play a significant role in this.
The company has so far recovered 16,970,050 kilograms (kg) of nature-bound plastic. They work with over 260 global brands and offer a range of services including Plastic Footprint Accounting, Verified Plastic Removal, Plastic Reduction Advisory, and Communication & Engagement. They also provide certifications for brands to communicate their action on the plastic crisis and build their brand.
Their work is based on high environmental standards, chain-of-custody impact validation, and industry-defining leadership. They have developed the Verified Plastic Removal Protocol, Social Impact Code, Certification Standards, and work with Verra to move the industry forward towards greater inclusivity and impact.
CarbonBetter's approach to carbon management (42:46)
CarbonBetter offers a suite of services to help businesses align their environmental and financial goals, supporting them in their transition to a net-zero emissions future. They assist companies in measuring, reducing, reporting, and offsetting their greenhouse gas (GHG) emissions in a transparent manner. Their services include measuring Scope 1, 2, and 3 GHG emissions, setting goals, crafting a playbook, taking action, sourcing carbon credits, and measuring and reporting on efforts. We also certify clean energy and carbon offset projects, maximizing ROI through effective carbon credit marketing. We believe that carbon reduction is a tangible goal for all and is committed to supporting businesses in their sustainability journey.
Can plastic credits have the same impact as carbon credits? (43:42)
Plastic credits are an emerging tool in the sustainability toolkit, similar to carbon credits used for offsetting carbon footprints. However, offsetting should be a supporting resource and not the only strategy, and direct impact should be sought. The voluntary carbon market, which has been around longer than the plastics market, offers a range of carbon credits, each representing one metric ton of carbon dioxide (CO2) removed, reduced, or sequestered. However, not all carbon credits are created equal, and their quality varies. Important considerations when sourcing carbon credits include additionality, permanence, and third-party verification. Some registries that generate carbon credits now also generate plastic credits.
How rePurpose Global develops plastic credits (45:02)
rePurpose Global has developed a comprehensive approach to plastic management, which includes the creation of the world's first plastic credit. Their process begins with a thorough measurement and footprinting analysis of a brand's plastic usage throughout its entire value chain. This analysis helps identify areas for potential reduction and design alternatives to plastic.
Once the footprint is understood, rePurpose Global works with brands to identify short, medium, and long-term reduction strategies. This includes exploring alternatives and transition opportunities to other types of packaging formats and materials.
Recognizing that this process takes time, rePurpose Global also helps brands set up impact portfolios to recover, intercept, and create infrastructure to capture plastic and remediate environments with legacy pollution. This is done in parallel with the measurement and reduction work.
The plastic credits developed by rePurpose Global are defined as one additional kg of plastic waste that's recovered, recycled, or avoided. The concept of additionality is central to their approach, ensuring that the impact made would not have happened without their intervention. They also have rigorous standards in place for environmental and social safeguards across the value chain, and for how brands can communicate about their impact.
Global plastic recovery projects (51:10)
rePurpose Global is an organization that focuses on tackling the global plastic waste crisis by setting up and scaling infrastructure in regions that are epicenters of plastic pollution. They have a universal methodology for their projects, but each project is unique and tailored to the specific needs of the region.
One of their projects is in Kerala, India, a coastal city that is a hotspot for ocean-bound plastic. Before rePurpose Global's intervention, people were dumping and burning their plastic waste due to a lack of formal processing or sorting infrastructure. rePurpose Global helped build out door-to-door collection for half a million people, maximizing the efficacy of the processing infrastructure and ensuring the best end destination for the material.
Another project is in coastal Columbia, where they are recovering and intercepting plastic and building infrastructure in communities bordering humpback whale birthing and mating areas. Marine pollution in the region has affected the migration patterns of these whales. rePurpose Global works with local communities to remove plastic waste, protect the ocean, and create the building blocks for a thriving circular economy.
In all their projects, rePurpose Global emphasizes complete accountability, maximum return on impact, and the intersectionality of the issue, putting marginalized peoples at the center of solving the problem. They also ensure that the end destination of the recovered plastic is the most sustainable and transparently communicated.
Closing thoughts (56:05)
The closing discussion emphasized the importance of a holistic approach to sustainability. Brands are encouraged to invest in plastic removal projects that align with their values, such as BeatBox Beverages, which achieved plastic neutrality. The conversation also highlighted the need to evaluate potential materials for their environmental impact, quality standards, and end-of-life opportunities. The social implications of plastic waste, especially in the Global South, were discussed, underscoring the benefits of formalizing waste management infrastructure in these areas. The session ended with an open invitation for further inquiries and feedback.
Conclusion
Navigating the complexities of plastic reduction and sustainability can be challenging—but we can help. Whether you're just starting your sustainability journey, looking to understand and offset your plastic footprint, or aiming to leverage plastic credits effectively, we are here to guide you. Our expertise in sustainability strategies, along with our understanding of the plastic problem, can help your brand make a tangible impact. Contact us today to get started.
Meet Nicole
Nicole Sullivan / Director of Climate Services
Nicole Sullivan leads CarbonBetter's climate practice, helping organizations measure, reduce, offset, and report on environmental impacts, including carbon emissions, water, and waste.
---
At CarbonBetter, we believe in progress over perfection. It's not about doing everything—it's about doing something. With over a decade of experience in the energy industry, we partner with organizations to guide them in the transition to a net-zero economy. CarbonBetter's sustainability specialists work closely with partners across all industries to integrate sustainability solutions seamlessly into any business.
CarbonBetter helps organizations of all sizes measure, reduce, report, and offset their emissions, and tell stories about their sustainability journey.
Telling stories about sustainability efforts helps other organizations take action that will then, in turn, inspire others—it's never too early or late to start.