With 2022 in the rearview mirror, we reflect on a year of recognition, impact, and a welcome return of in-person connection.
As we approach the beginning of another new year, we look forward to the opportunity to reflect on the year coming to a close. It's always so hard to believe how quickly a year passes—at this time last year, we were completing our first full year since the pandemic began (a year that included our transition to CarbonBetter). While the challenges of 2022 are a bit different than they were last year, we remain incredibly grateful for the daily opportunity and privilege to serve our clients, support our teammates, and make an impact on the world by ensuring organizations get the energy they need to operate while helping them chart a path to a net-zero future. Join us as we share some highlights from this year and some things we're looking forward to in the year ahead.
2022 in Review
RECOGNITION
It's always awesome when the CarbonBetter team is recognized for their hard work, as the Austin Business Journal (ABJ) and the Greater Austin Chamber of Commerce have done this year. Many thanks to these organizations for the opportunity to be named among so many Austin businesses we respect and admire.
CarbonBetter was once again recognized as the largest minority-owned business in Austin for the second year in a row, as determined by the ABJ. Our revenue growth also landed us in the 7th spot on the ABJ's largest private businesses headquartered in Austin list, up from the 10th spot the year prior.
We are fortunate to live in the powerhouse city of Austin, which is full of successful entrepreneurs and many large organizations doing meaningful work, so our position on these lists undeniably shines a bright light on the talent of the CarbonBetter team.
CarbonBetter was also nominated in the Environmental Champion category in the 2022 Greater Austin Business Awards. While we did not take home the award this time, we are grateful for the recognition by the Chamber for the work we do to support businesses transitioning to a net-zero future, as well as the day-to-day climate-conscious actions of our team, including being good stewards of our lower impact Austin HQ.
IMPACT
As an organization, we help other companies build pathways to carbon neutrality, but it's a journey we also walk ourselves. For 2022, CarbonBetter is carbon neutral for Scope 1 and Scope 2 emissions.
For the 2022 calendar year, our Scope 1 and Scope 2 emissions totaled 13.95 metric tons of carbon dioxide equivalent (CO2e). The only facility that CarbonBetter owns and operates is our headquarters in East Austin, which was an old church that was repurposed to create a lower-impact workspace for our team.
The emissions represented include both natural gas emissions, quantified utilizing billed consumption rates from Texas Gas and Environmental Protection Agency (EPA) emission factors, and electricity consumption emissions, quantified using City of Austin utility bill data and emission factors from EPA's e-GRID database.
To reach our 2022 carbon-neutral goal for Scope 1 and 2 emissions, we offset 14 metric tons of CO2e with credits from the four projects represented in CarbonBetter's Certified Offset Portfolio 22-1.
We also make a positive impact through our retail energy business, Provision, which services residences and small businesses in the midwest. Provision uses CarbonBetter-certified clean energy supply that automatically includes 100% renewable electricity or 100% carbon offset natural gas, plus planting trees, in every energy plan.
We designed this approach for Provision to go beyond "carbon neutral" in order to help address our carbon debt. Since becoming CarbonBetter certified in late 2020, Provision customers have helped fund almost 93 million kWh of renewable electricity generation, offset nearly 56,000 tons of carbon dioxide equivalent, and supported the planting of about 65,000 trees, some of which were planted in our OKO Forests agroforestry project—check out the Provision 2022 Impact Recap!
2023 TaskS for 2040 Net-Zero
As of mid-2022, 702 companies on the Forbes 2000 have made net-zero pledges. Whether your organization has made a pledge or plans to make one soon, there's a massive difference between pledging net-zero and achieving it. Do you have a clear roadmap for your sustainability journey? What are the right steps to consider in 2023 to achieve 2040 net-zero carbon, water, and waste goals? It's time to create a clear roadmap.
EVENTS
Community and connection are such vital parts of building effective climate solutions, and we're fortunate to have been a part of several important events this year.
In March 2022, our founder and president, Tri Vo, our Climate Services Director, Nicole Sullivan, and our colleague James Wang, a Managing Director at Ara Partners, took the stage at South by Southwest (SXSW) to dispel Convenient Fantasies About Climate Change. We are fortunate to be welcomed back to SXSW for 2023 to share how leaders at three alcoholic beverage brands are tackling sustainability in their growing businesses.
In April 2022, we held our first free day of climate action for Austin businesses as part of our Earth Day Austin 2022 event. Twenty-nine Austin businesses joined us to estimate and offset one day of operations to demonstrate the importance of taking small steps forward. Together, we offset 3.38 tons of carbon dioxide equivalent emissions and supported four impactful carbon offset projects through the purchase of carbon credits. Join us for our 2023 day of climate action in Austin and be a part of our 2023 Earth Day Austin Impacts Report.
Our team also hosted two insightful discussions about the challenges of scaling the carbon markets and how brands are taking steps to integrate sustainability into their businesses (to be reprised at SXSW 2023!), which are both available for video replay anytime.
TEAM
We featured several team members in our Life @ CarbonBetter series this year. We've loved getting to know everyone better, and we hope you'll do the same. Here are a few stories we shared:
Nicole Sullivan leads our climate practice, and she's passionate about protecting the outdoors—where she loves to spend her time. "I really believe in CarbonBetter's mission and values. We are helping our clients on every step of their sustainability journey and prioritizing progress over perfection."
Tri Vo is our founder and president, and he's a humble servant leader, focused on constantly clearing roadblocks for his team. "We've managed to create a really supportive, collaborative environment where we grow together, and I love being a part of it."
Imani Walton is an operations analyst, and when she's not scheduling gas or wrangling a P&L, she may be hanging out with her dogs or writing poetry. "You're your own worst critic; continue to prove yourself wrong against all your doubts and fears."
Sae Saito is a data analyst, and her insights about our business are essential for helping us run smoothly. "The team here is awesome. They are all supportive and friendly. I also like that I get to work on a wide variety of projects."
Yesterdae Sedwick is a regulatory coordinator and has been a key contributor to several aspects of our retail energy business over the last four years. "I love my job because people care about me as a person and about my professional growth."
Scott Butler manages our retail energy operations, and he's as creative as he is analytical (we call that a unicorn!). "I've worked here for nearly 8 years now, and I've been given so many great opportunities."
Joe Smalec is a technology manager at CarbonBetter, and he ensures our technology infrastructure is running smoothly. "The greatest thing about working here is all the smart, talented, and hard-working people that I work with every day. We always have each others' backs and are able to grow and learn from each other's experiences."
Diana Roessler is director of marketing and origination, supporting large industrial customers in the Midwest. "We are able to see all aspects of the business, which enables us to really understand how our work contributes to the overall success of the company."
These are just a few of the smart and hard-working team members we are so fortunate to work alongside each day, and they were such a key part of having a fantastic year in 2022.
Here are just a few photos of our team during the wonderful year behind us.
CONTENT
Our team authored 66 blog posts this year covering a range of topics, including carbon offsets, net-zero, proposed climate-related regulatory rules in the United States, climate news, and more.
Challenges and opportunities in the climate and sustainability space are constantly shifting, and the urgency for businesses to act is growing by the day. Our top blog posts for the year reflect this, and they reflect the types of conversations our team has been having with companies that are navigating the shift to a low-carbon economy.
What role does the carbon market play when the focus must be on measuring and reducing carbon emissions, in addition to waste and water considerations? When offsetting hard-to-abate emissions, how can you ensure you're purchasing high-quality carbon credits? What does it look like to start on a sustainability path in an organization, and how do you scale one already in place? If your company has made commitments, but there's no roadmap—how can you get on track? Answers to many of these questions can be found in our ten most popular blog posts in 2022:
We also launched a new series this year called Modern Planeteers! The 90s cartoon Captain Planet is an unexpected part of CarbonBetter's origin story. Our founder, Tri Vo, was inspired as a child by the "Planeteers," who fought eco-villains that were trying to destroy the planet. In this series, we feature modern-day Planeteers—heroes who are working to save our planet across various industries and roles. Know a Modern Planeteer doing great work? Reach out and let us know.
Want to be notified when we publish new stories? You can subscribe to our bi-weekly email newsletter on this page, or you can subscribe to our bi-weekly LinkedIn newsletter called Sustainable Progress if that's your preferred format.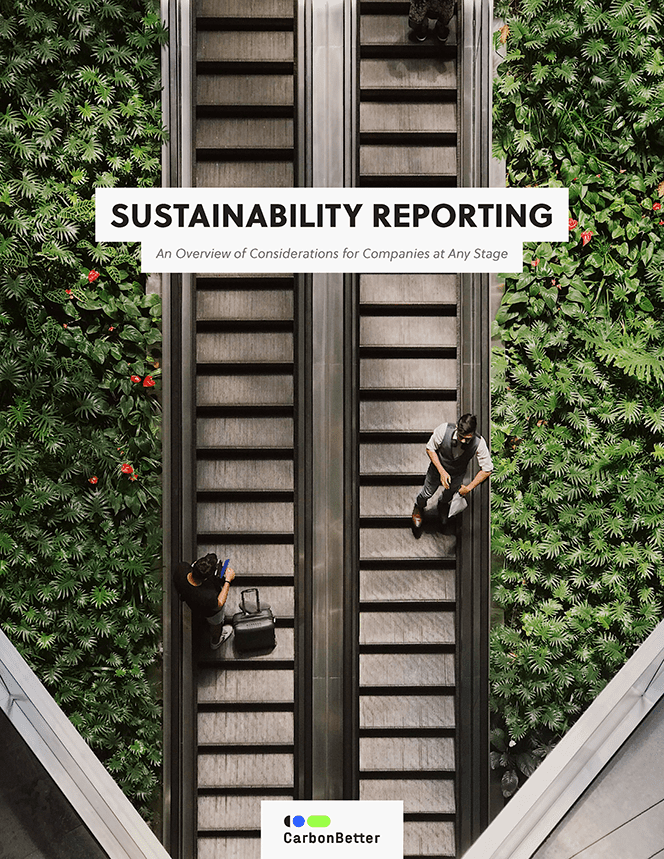 SUSTAINABILITY REPORTING OVERVIEW
Sustainability reporting serves as a valuable tool to achieve corporate commitments and better manage climate-related business risks. This white paper walks you through what's typically included and what should be considered.

Certified Offset Portfolios
Buying high-quality carbon offsets has never been easier. Explore CBCO Portfolio 22-1 and get instant access to fully vetted carbon offsets.
Looking Ahead to 2023
SXSW 2023
We're so excited to be back on the SXSW stage in 2023 with our session titled Brands Shaking Up Alcohol's Carbon Footprint. CarbonBetter's Nicole Sullivan will moderate a panel with Aimy Steadman from Beatbox Beverages, Liz Rhoades from WhistlePig Whiskey, and Tri Vo representing Fierce Whiskers Distillery. The session day and time will be announced soon, so make sure you're subscribed to our newsletter here or on LinkedIn to be notified.
We're passionate about this topic because the distillation of alcohol is particularly water-intensive (it's estimated that it takes 12 times the final volume of alcohol to produce it) in addition to the carbon footprint of ingredients, packaging, and distribution, so it's critical that alcoholic beverage brands take action. These industry leaders will share their different approaches to integrating sustainability in their manufacturing and operations.
EARTH DAY 2023
We're thrilled to kick off our Earth Day Austin 2023 efforts by opening up our participant form for submissions! We welcome Austin companies of all sizes to join us in this free day of climate action to show how small steps by many can make a significant positive difference. Check out our Earth Day Austin 2022 Impacts Report to learn what it's all about, and then sign up your business to participate for free here. We'll have more details to share over the next couple of weeks when we officially launch this year's Earth Day program.
KEY REGULATIONS
Our team is paying careful attention to two proposed regulations in the US that may ultimately require specific climate-related disclosures of thousands of US businesses, including public companies and federal contractors.
The Securities and Exchange Commission's "Enhancement and Standardization of Climate-Related Disclosures for Investors" proposed rule would require "consistent, comparable, and reliable" disclosure of climate-related risks and Scope 1, 2, and sometimes Scope 3 greenhouse gas (GHG) emissions from public companies. While this rule is pending, with its future unclear, there has been increasing demand for organizations to disclose carbon emissions, so it's not too early to start preparing—whether it's a regulatory mandate or what you need to do to stay competitive in the marketplace, and every reason in between, it's critical to just get started. We share more about some preparation steps here.
A second proposed rule, which could affect over 4,000 US businesses that have contracts with the federal government, is currently in the comment period. The US government, with about $650 billion annual supplier spend, has proposed a requirement that its suppliers disclose Scope 1, 2, and sometimes Scope 3 emissions, with requirements varying based on the size of the company. Larger organizations may also be required to disclose climate-related risks and set targets. Learn more about the proposed requirements for different revenue levels and how to start preparing here.
As news develops, we'll be sure to share more with our email newsletter and LinkedIn newsletter subscribers.
EVENTS
The climate team is already working on several events for 2023, and we welcome everyone to join us.
Our first webinar of the year will be on Wednesday, January 25, 2023. Dominic Sung from CarbonBetter will lead Nicole Sullivan, Director of Climate Services at CarbonBetter, and Sherry Frey, VP, Total Wellness with NeilsenIQ, in a conversation about 2023 action items to hit 2040 climate goals. What are the latest benchmarks for sustainability efforts across industries to know where a brand stands? How are consumer perceptions about sustainability changing, and how do perceptions influence purchases? How can you confidently set goals today in a high-growth organization where footprints are ever-expanding? What should you be doing now to set your company up for success in achieving future sustainability goals? We'll cover these questions and more. RSVP today on our website or on LinkedIn.
We'll also be hosting in-person gatherings in Austin in 2023 that we're calling Climate Conversations. Our goal is to support ongoing central Texas conversations about climate-related efforts because it's essential that we all share stories about the wins and challenges faced by those tasked with sustainability efforts within organizations. RSVP today for our first event on January 24, 2023 at Central Machine Works (check out their carbon-negative beer!) starting at 4:30 pm.
Thanks for taking the time to reflect with us and being a part of our story! We enter 2023 full of gratitude for a successful year behind us, and we are energized and inspired by our mission to serve organizations that are working to drive our transition to a net-zero economy. In 2023 we look forward to continuing to share stories about progress in our fight to stop and reverse climate change.
---
Story
A new SEC rule would require "consistent, comparable, and reliable" disclosure of climate-related risks and greenhouse gas (GHG) emissions from public companies.
Read More